October 25, 2023 – Ownership Matters: 2023 Celebration of Employee Ownership!
August 28, 2023
/
/
Comments Off

on October 25, 2023 – Ownership Matters: 2023 Celebration of Employee Ownership!
Details:
Wednesday, Oct. 25th, 2023
4:00pm – 6:00pm
Footnote Coffee & Cocktails, 634 W 4th St STE 120, Winston-Salem, NC 27101
Cost: FREE (optional donation)
---
Step into the spotlight with us and immerse yourself in the festivities of
Employee Ownership Month! 🎉
As October unfolds, we're excited to honor the latest wave of employee-owned companies in North Carolina. Join us to celebrate, learn, and connect with the passionate individuals driving the growth of worker-owned enterprises in our state.
October comes alive as we raise our glasses to NC's freshest employee-owned ventures. This is your chance to engage with these pioneering businesses and mingle with professionals who are dedicated to making the dream of worker ownership a reality in our vibrant community.
NCEOC's vision revolves around a North Carolina where prosperity is shared and local economies thrive, all thanks to the magic of employee ownership. Our mission is clear: safeguarding jobs, nurturing community wealth, and fostering a dynamic, inclusive economy through the empowerment of employee ownership. We achieve this through the art of storytelling, forging impactful partnerships, and delivering unbiased, invaluable insights. Our commitment resonates particularly with Black and Brown-owned businesses and those with predominantly Black and Brown workforces.
Together, we're not just celebrating the growth of businesses; we're celebrating a movement that fuels opportunity and inclusivity. Be a part of this exciting journey towards a more equitable and vibrant North Carolina.
Let's unite in celebration, inspiration, and shared progress. We look forward to your presence at this remarkable event!
Grab your ticket today and be part of the future we're shaping together. 🌟
Check out these links if interested in sponsoring this event or donating to support our work.
---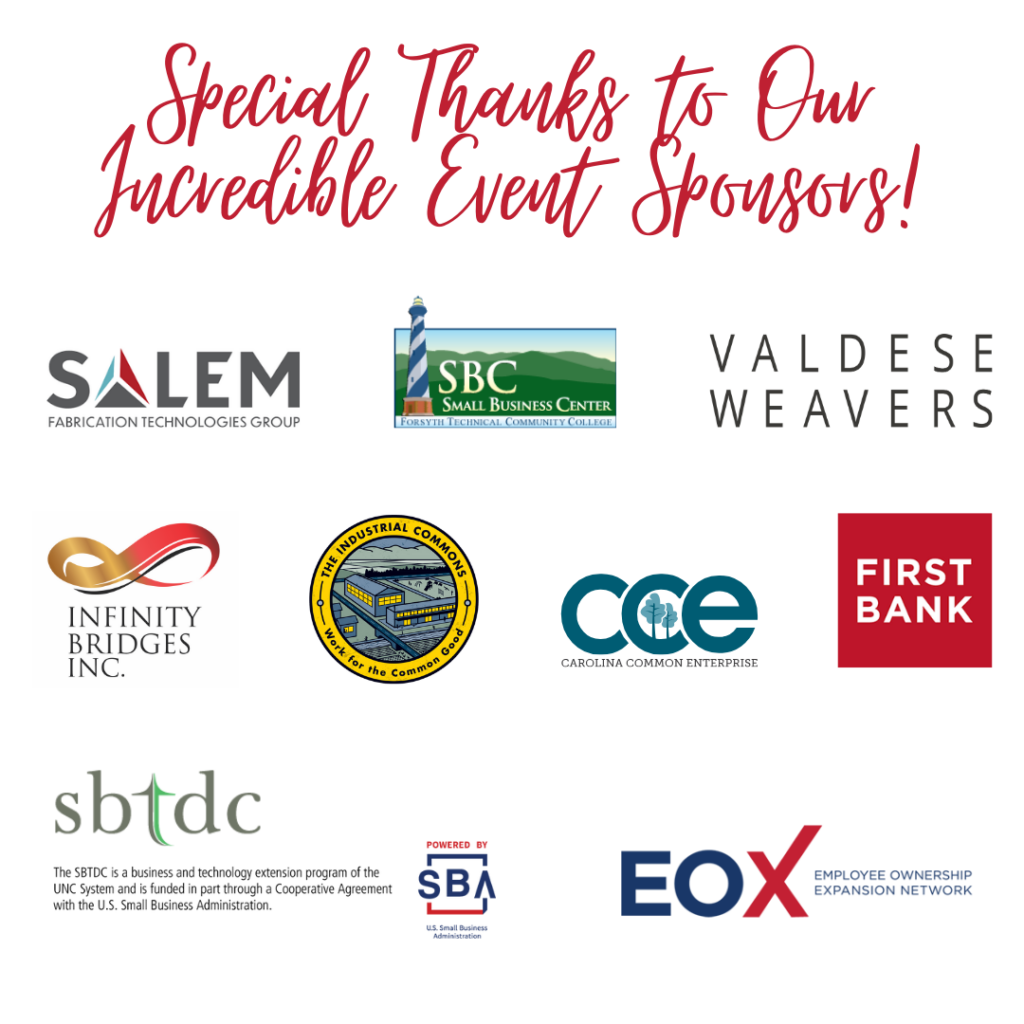 ---
Employee-Owned Companies Being Celebrated in 2023
Employee-Owned Companies Celebrated in 2022
---